Osage County is home to public parks, historical sites and recreation areas as well. Nine Missouri Conservation Areas cover almost 3,000 acres, many on one or more of the county's major rivers (Missouri, Maries, Osage, and Gasconade).
Are you an outdoor enthusiast?
A great hiking opportunity in Osage County is Painted Rock State Park located 7 miles southwest of Westphalia on Highway 133.  This state conservation site consists of 1,480 acres on a bluff overlooking the Osage River.    A 1.6 mile trail winds through woods but provides an overlook of the Osage River from a bluff several hundred feet above the River.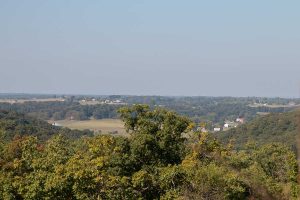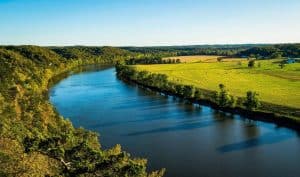 We have 4 rivers flowing through the county (Missouri, Osage, Gasconade, and Maries Rivers) so fishing and boating opportunities abound.
See the descriptions of the 9 Missouri Conservation areas in Osage County that cover almost 3,000 acres.
The following conservation areas have access to the following rivers:
Maries River:  Dr. Bernard Bruns Access
Missouri River:  Chamois Access, Smoky Waters
Osage River:  Bonnots Mill Access, Painted Rock, Smoky Waters
Gasconade River:   Cooper Hill, Pointers Creek Access, Rollins Ferry Access
Would you like to get out on the Gasconade River but you don't have a boat, canoe or kayak?
Hilkemeyers General Store: Highway 63 (across from Quaker Windows), Freeburg
Call: 573-744-5245 | Email: hilkemeyershonda@gmail.com
We sell outdoor sporting-hunting-fishing supplies as well as Honda Power sports-boats-camping equipment. We also run a canoe/kayak float trip service and do shuttling for people with their own boats.
Want to get up close and personal with farm animals?
Check out Where Pigs Fly Farm,
3miles east of Linn on Highway 50. 
Owner Cindy Brenneke has over 100 rescue animals of many different breeds on a 60+ acre farm.   Cindy gives you crackers to feed the animals – no need to get their attention – they will follow you!
Beyond the Barn
Our petting zoo is a great place to bring your family, grandchildren or your group or class! Come visit our corn maze, pumpkin patch and sunflower field! In addition to our goats, peacocks, chickens, turkeys, rabbits, ducks, homing pigeons and miniature donkeys, we have a story book hiking trail, a ride-on train, corn box with slide and diggers, family-friendly games, sound garden, a small playground, and a picnic area under our pavilion. 
You want to see a herd of Bison?   Traveling on Highway 89 between Linn and Chamois you will find Seven Thunder Bison farm, 5065 Highway 89 N, on the west side of the road about 8 miles south of Linn. You can pull off the highway and watch the herd from your car.  
Of course, you can also enjoy the outdoors at the parish picnics and fall festivals held by many of Osage County's churches throughout the year.
Besides good food these events often include a variety of kid's games, quilt auctions, beer gardens and often live music.

 

Check the Upcoming Events listing for more details.
Another opportunity to experience the outdoors is to join one of Osage County Agritourism Council's upcoming bus tours.

 

These tours usually visit at least one agriculture operation, a business or manufacturer and typically have lunch at one of Osage County's historic churches.

 

Check the upcoming event calendar or contact OCAC's Tour Coordinator, John Gulick

   

jrgulick@aol.com

   

573-690-1076

 

to get added to the notification list about upcoming tours.